Stunning Room Showcases
Alloggio comes with practical elements and neat templates designed so you can easily create detailed room presentations along with reservation forms.
Room List Layouts
You get a stunning versatile collection of layouts made specifically for displaying your rooms. Feature images, descriptions, room availability filter & more.
-Standard list with room details
-Gallery list with details on hover
-Simple list for compact presentations
-Boxed room list template
-2-column gallery list with details on hover
-Simple 2-column gallery room list
Single Room Layouts
Display all the rooms you have available for rent in astonishing detail and let your visitors make their reservations on the spot.
1. Room gallery slider
2. Room description
3. List of room amenities
4. Additional room info
5. Check-in system, extra services, price

6. Room availability calendar
7. Customizable Google Map
8. Related rooms
9. Weather widget
10. Custom ad

Accounts & Payments
Users can create their personalized profiles on your site! They can also pay for rooms then & there thanks to the full compatibility with WooCommerce.
-Personalized accounts
-WooCommerce
-Cart page
-Chekcout page
-Dropdown cart
-Coupon codes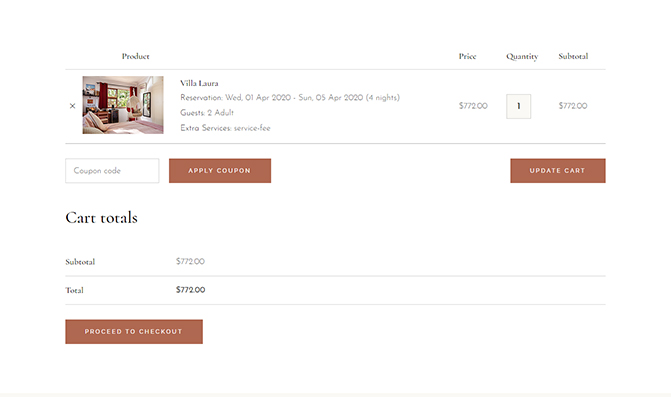 Inner Pages, Blog & Gallery
Launch your blog, display room galleries, present your business and easily feature contact forms on your pages.